Fabricating the Future
MEMS is a technology we can't live without.
MEMS devices are dominating the market and enabling interactive electronic devices that are changing our lives for the better.
From the MEMS pressure sensors used in ADAS subsystems to the accelerometers in your smartphone, it's clear that MEMS plays an outsize role in our future. As your foundry partner, we're ready to step up to the plate.
Imagine it. Design it. We'll fabricate it.
Imagine it. Design it. We'll fabricate it.

Design Process Development
Developing your MEMS device manufacturing process is one of the most critical and challenging parts of bringing a product from concept to commercialization.
The MEMS development process involves a series of well-choreographed steps that can number into the hundreds. With that kind of complexity, you need an experienced MEMS foundry partner who has overcome the inevitable challenges that come with the territory.
As your foundry partner, we'll finely hone a development process to match your individual needs.
You have our word. We'll be there every step of the way until you're fully satisfied with your MEMS device—whether that's a proof-of-concept, pilot production, or reaching mid-volume with the highest reliability, accuracy, and repeatability.
Prototyping & Integration
We've got decades of experience under our belt. That's decades of working with university R&D labs and spinoffs, entrepreneurs with brilliant ideas and a market need to fill, and well-established innovators who want to perfect their MEMS device.
As your MEMS foundry partner, we put our expertise to work prototyping your device designs. We understand the intricacies of ASIC integration to complete your packaged device. We're adept at working with platinum and gold as part of our regular processing. We're also one of the few foundries conversant in advanced materials such as graphene.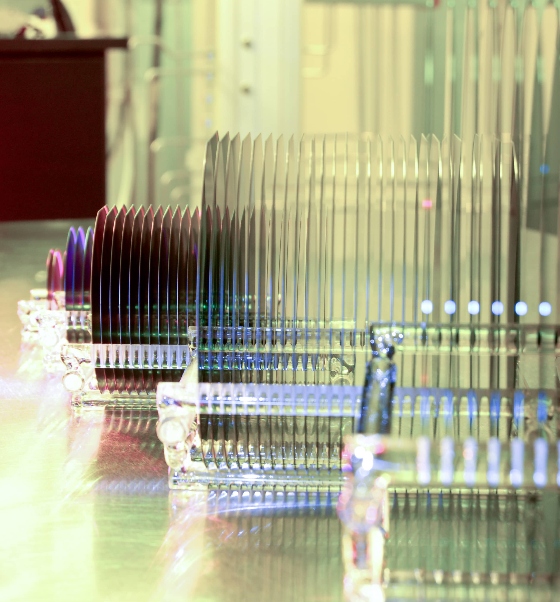 Collaboration
MEMS takes an ecosystem
We're in the MEMS industry, where no company is an island. Instead, we're an interdependent ecosystem comprising design firms and design-environment suppliers, materials suppliers and equipment manufacturers, outsourced semiconductor assembly and test service providers (OSATS), and of course, foundries.
Whether you're bringing up your process or ramping to production, you need a foundry that will leverage the ecosystem to your advantage. We'll pull together an ecosystem that maximizes the strengths of your product or technology—and that fills in any remaining gaps.
And where other foundries may see competition, we see collaboration. Our white-glove service through our tech-transfer program ensures you'll get a smooth transition to a foundry that will take you to the next level of volume production.
ITAR Registered
Is your MEMS device targeting military, defense or aerospace applications? If so, you may need an International Traffic in ARMS Regulations (ITAR)-registered supply chain.
Created to protect national security and ensure foreign policy objectives, ITAR governs the export and re-export of controlled commodities, services and technologies. This includes microelectronic products such as MEMS devices.
Rogue Valley Microdevices is an ITAR-registered MEMS foundry. We can help you adhere to the stringent requirements that define your processes, security, and communications throughout your manufacturing process. That way, you'll be ready to sell your ITAR-compliant MEMS devices to the U.S. Department of Defense.
Let's Talk
Take the first step on your journey with us. Tell us about your application and target audience. Define the goals for production. The more clarity we have as we begin our engagement, the more seamless the development process will be.
Jumpstart Initial Development
Initiate NRE development of processing to produce a limited yield batch of wafers for you to test.
Refine the Process
We make your device easier to produce and increase yield before moving to production mode.
Launch Production Mode
We'll help stage your stock at key bottleneck points to smooth the flow of products to your customers.